(2019-present) Ongoing project of ceramic bowls
One thing that has always attracted me to pottery is the potential permanence that clay possesses. In the first stage, I threw, fired and glazed thirtythree soup bowls, decorated with one of three phrases ( I WAS BORN A WOMAN, IT IS A SERIOUS THING JUST TO BE, MASTERS WERE FEARFUL) I felt spoke of who we are as a society at this time. Inspired by ancient texts, ceramic law cones and the discovery of these artifacts in modern day. With these Bowls of Words I aim to create a document that could be discovered in the future by another civilization.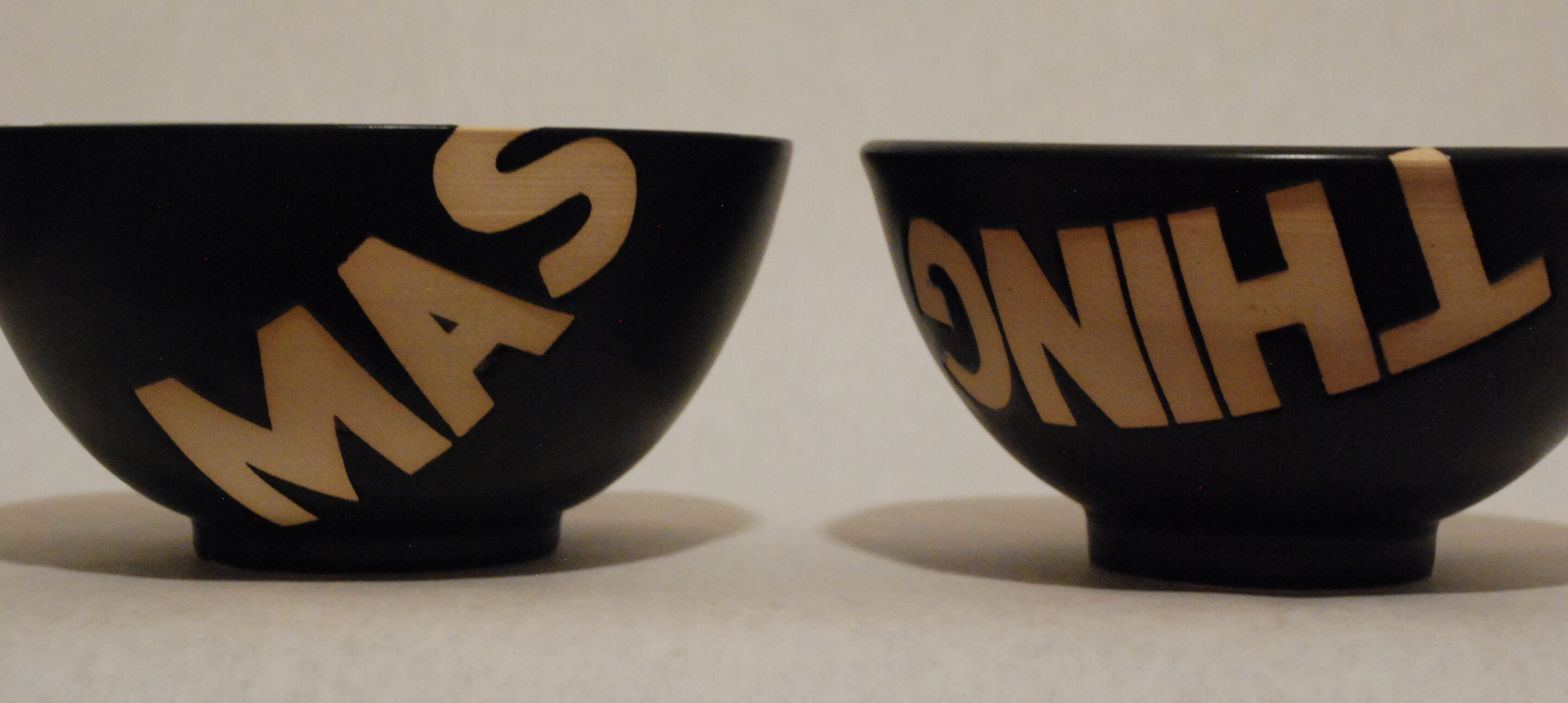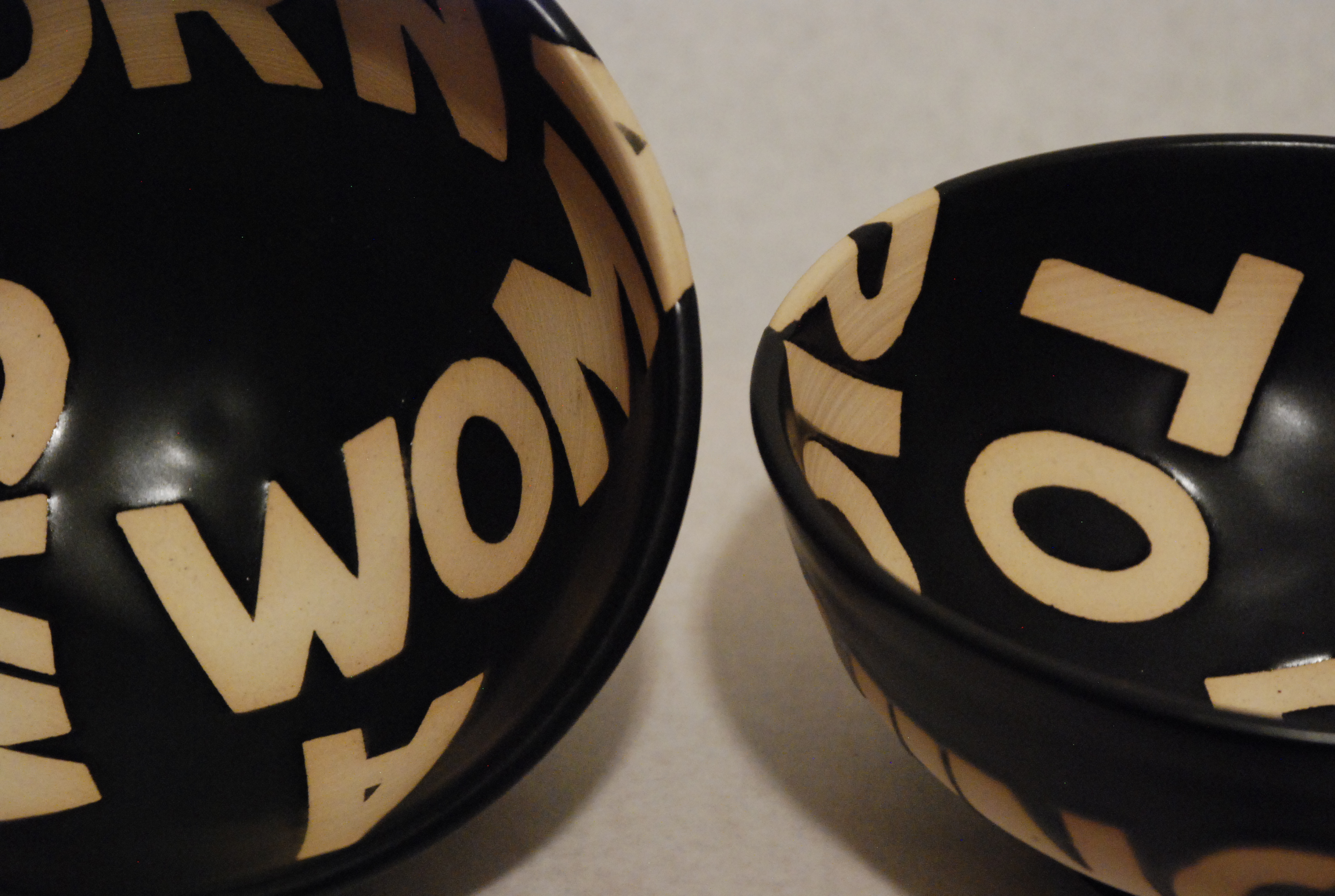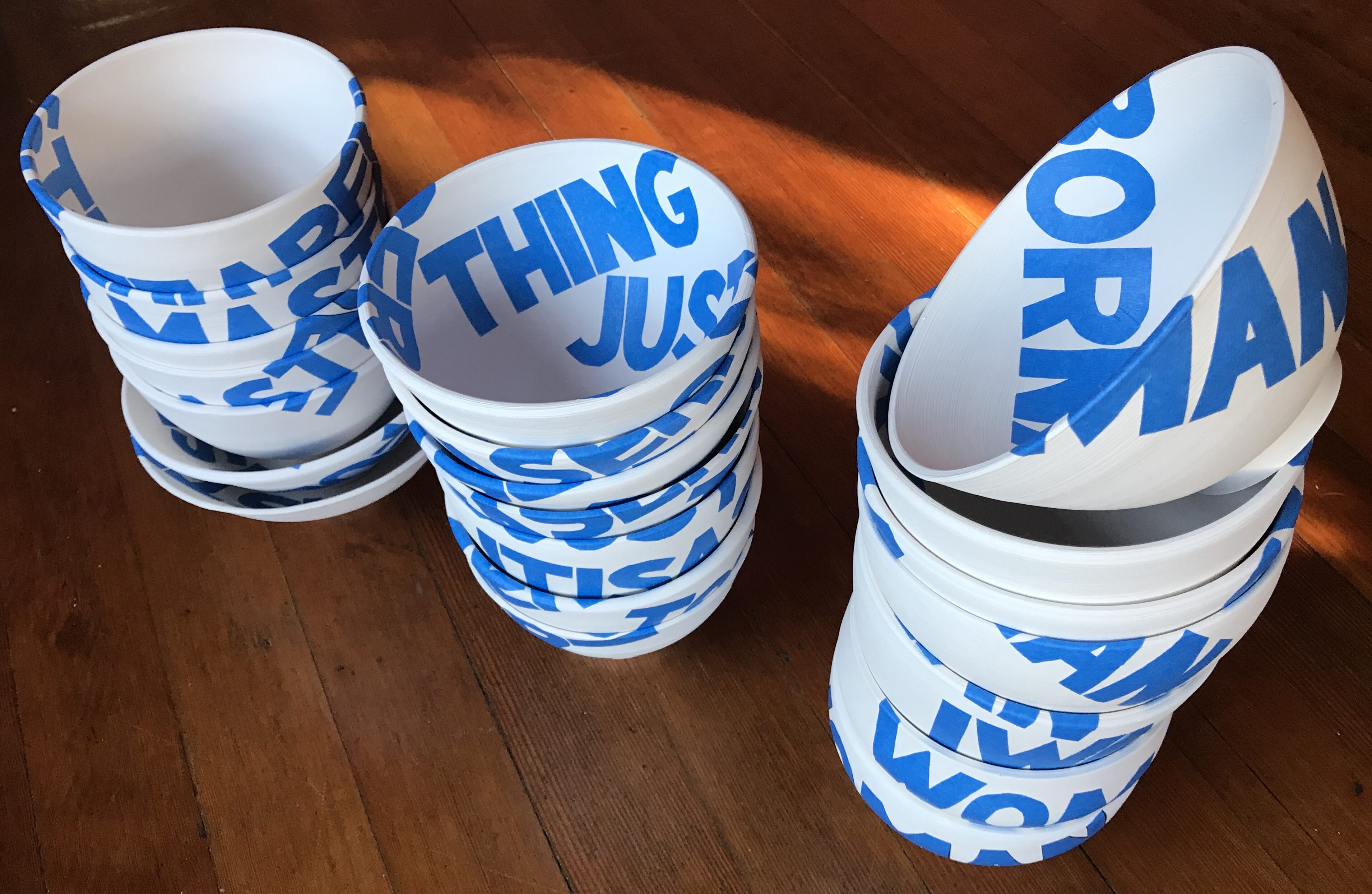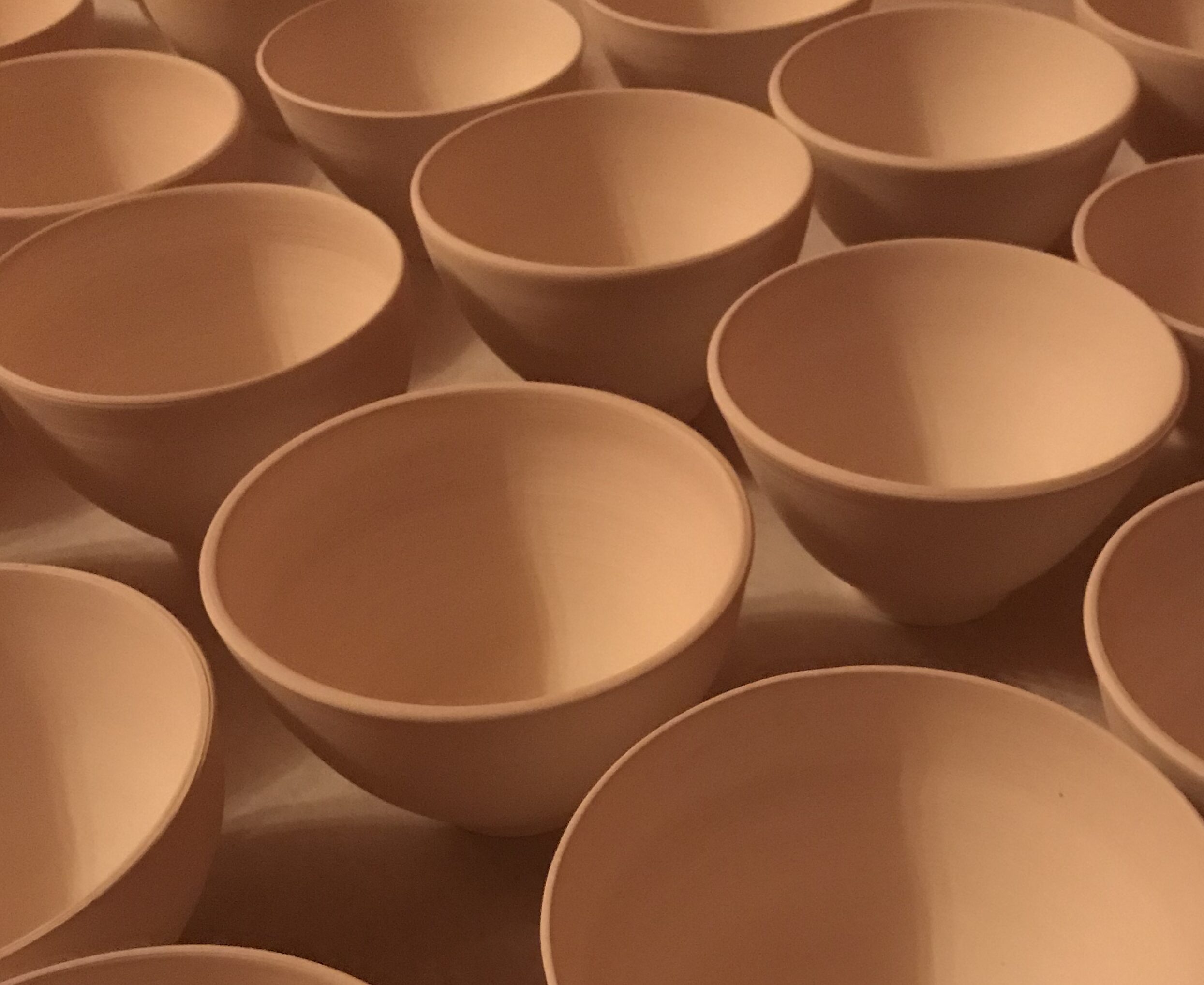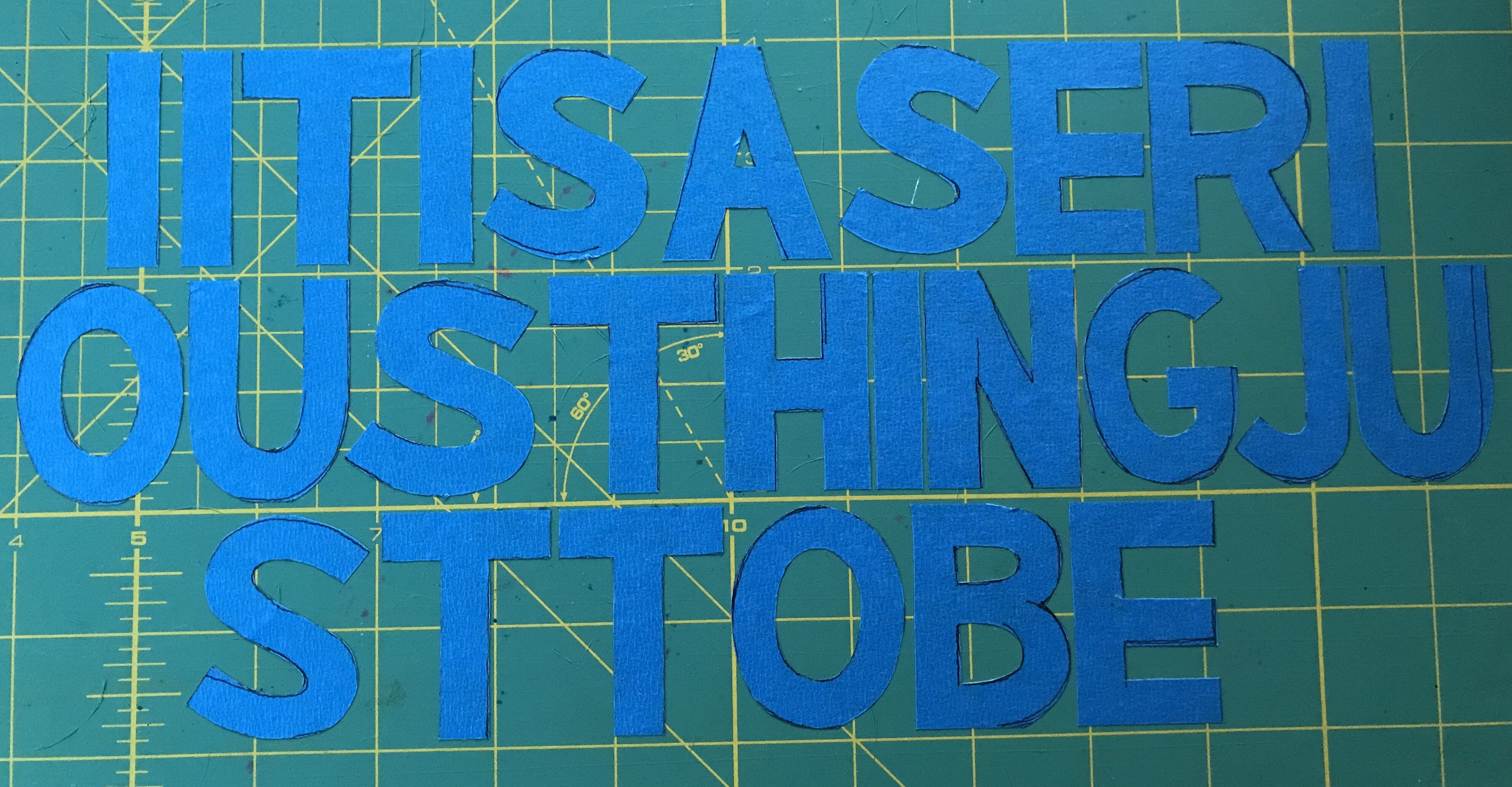 For 2020 I threw over 100 bowls, some porcelain, some terracotta, with the three phrases ( I LOVE YOU, WE ARE ANIMALS, FREE THE FUTURE). Also see, Bowls for Sale.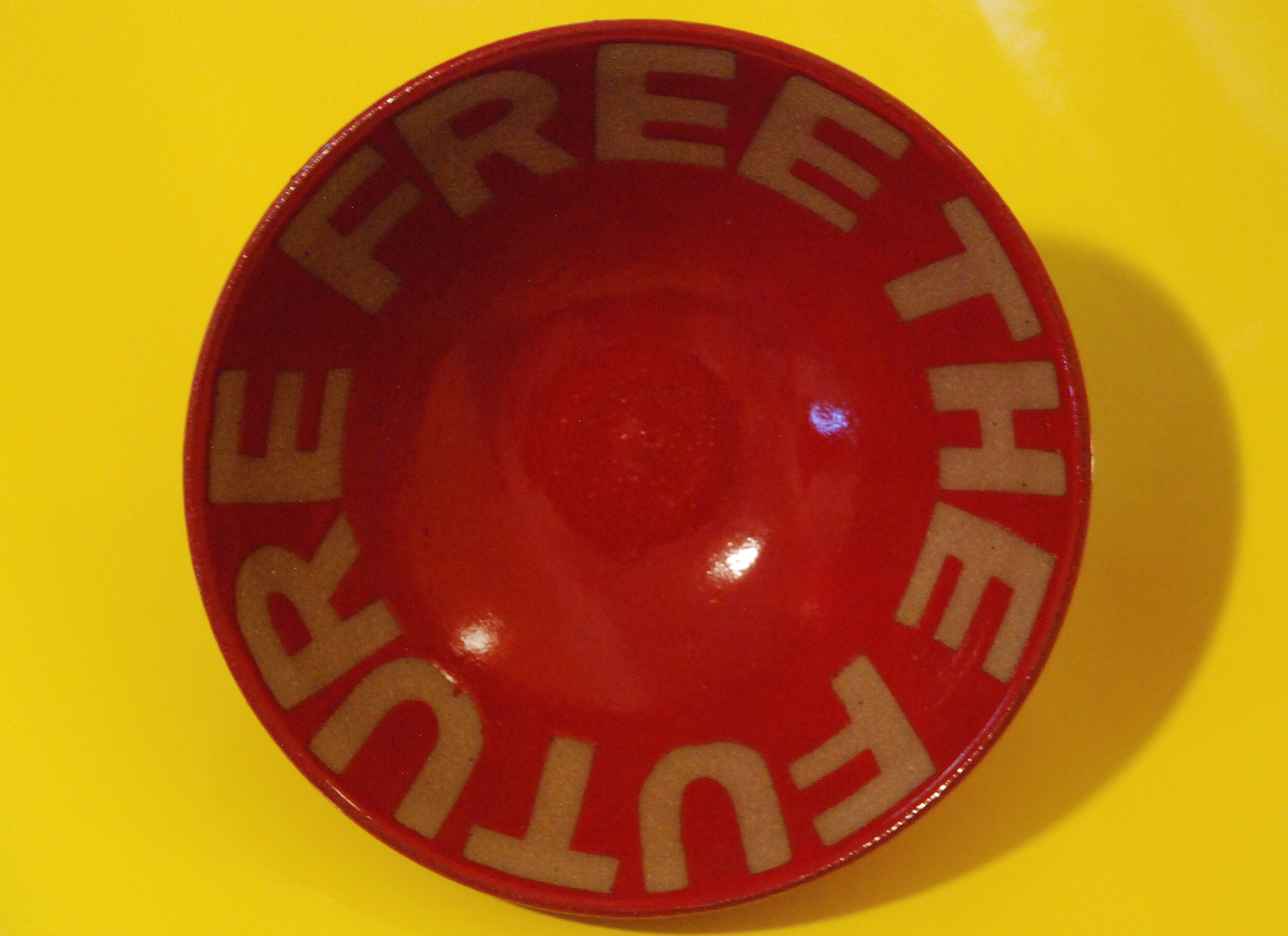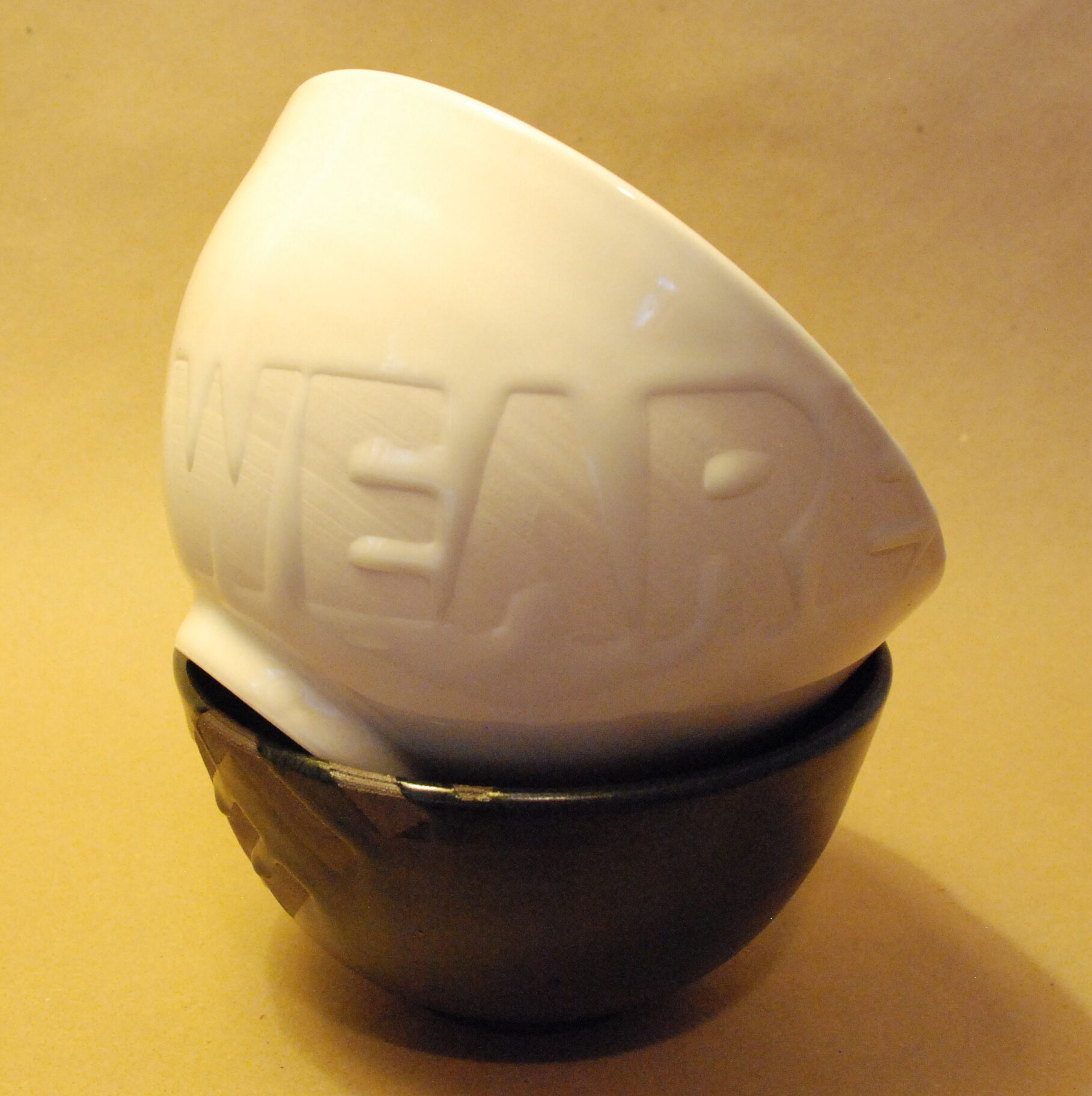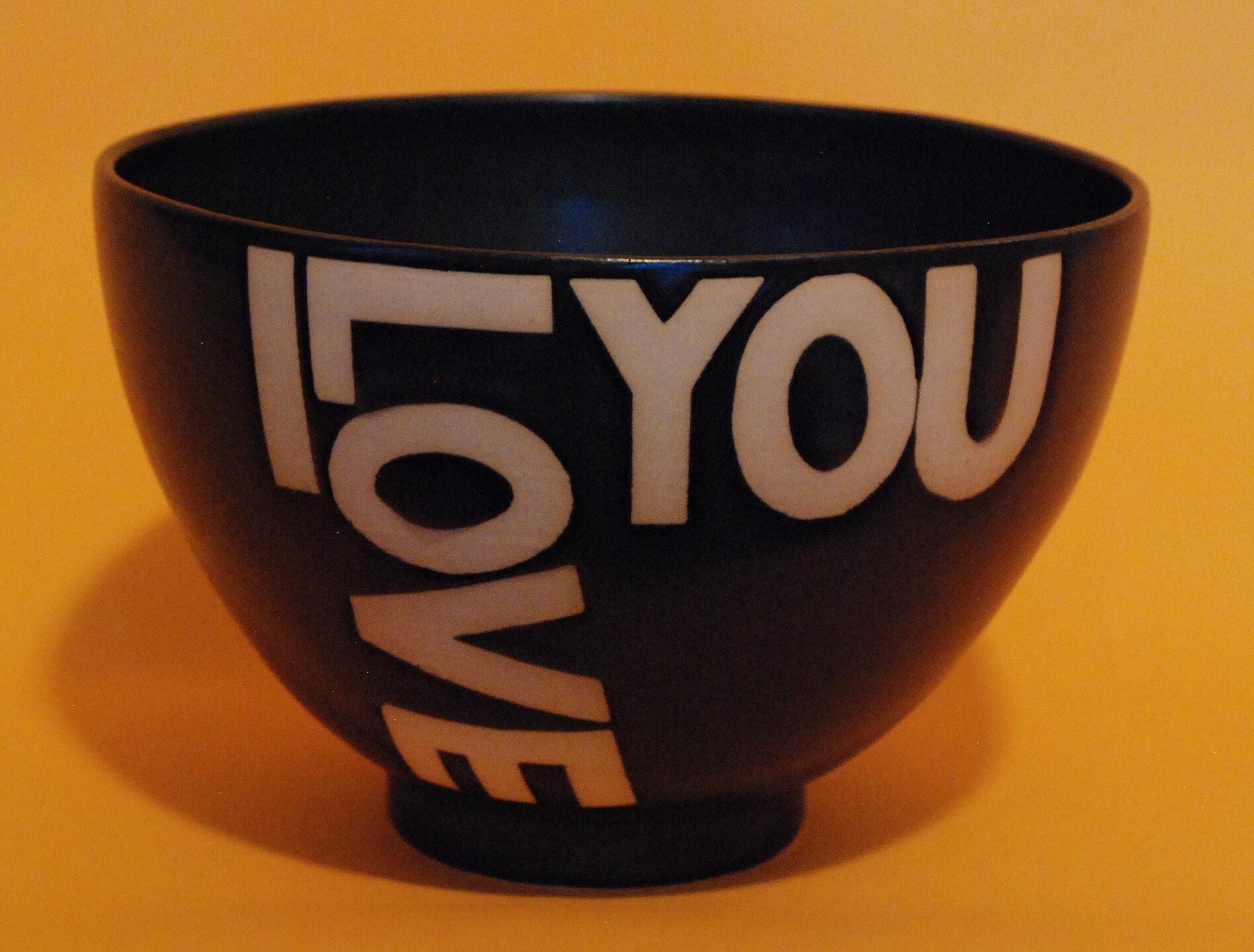 For 2021 I chose the three phrases, SPACE ANNIHILATORS, YOU AND I ARE EARTH, and TIME IS MEMORY. Here's a little explanation of the three phrases: SPACE ANNIHILATORS, in reference to humans, comes from Paramahansa Yogananda; YOU AND I ARE EARTH, was written on a plate discovered in the sewer of England also accompanied by the date of 1661; and TIME IS MEMORY, is the creative mantra of my good friend. Bowls for Sale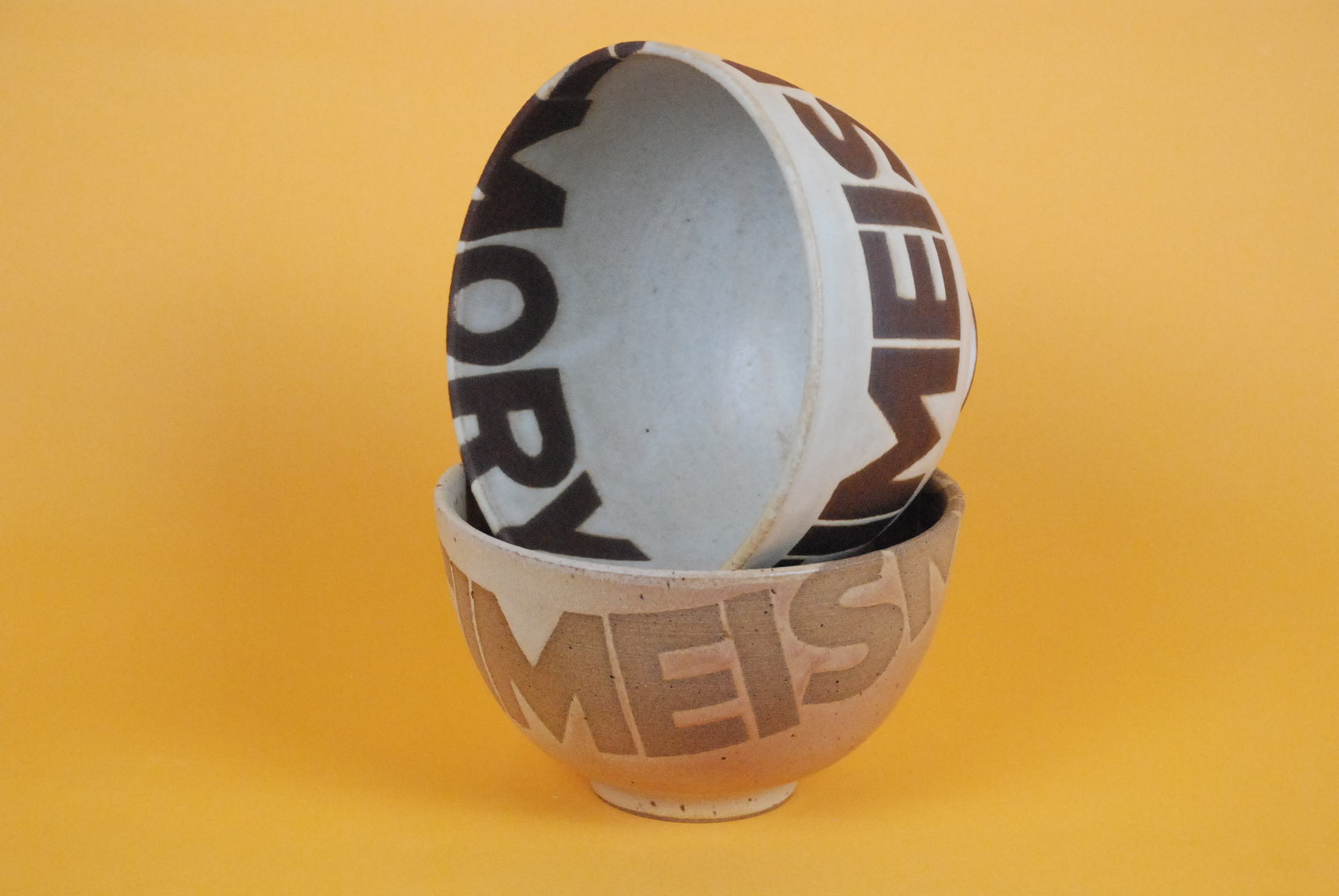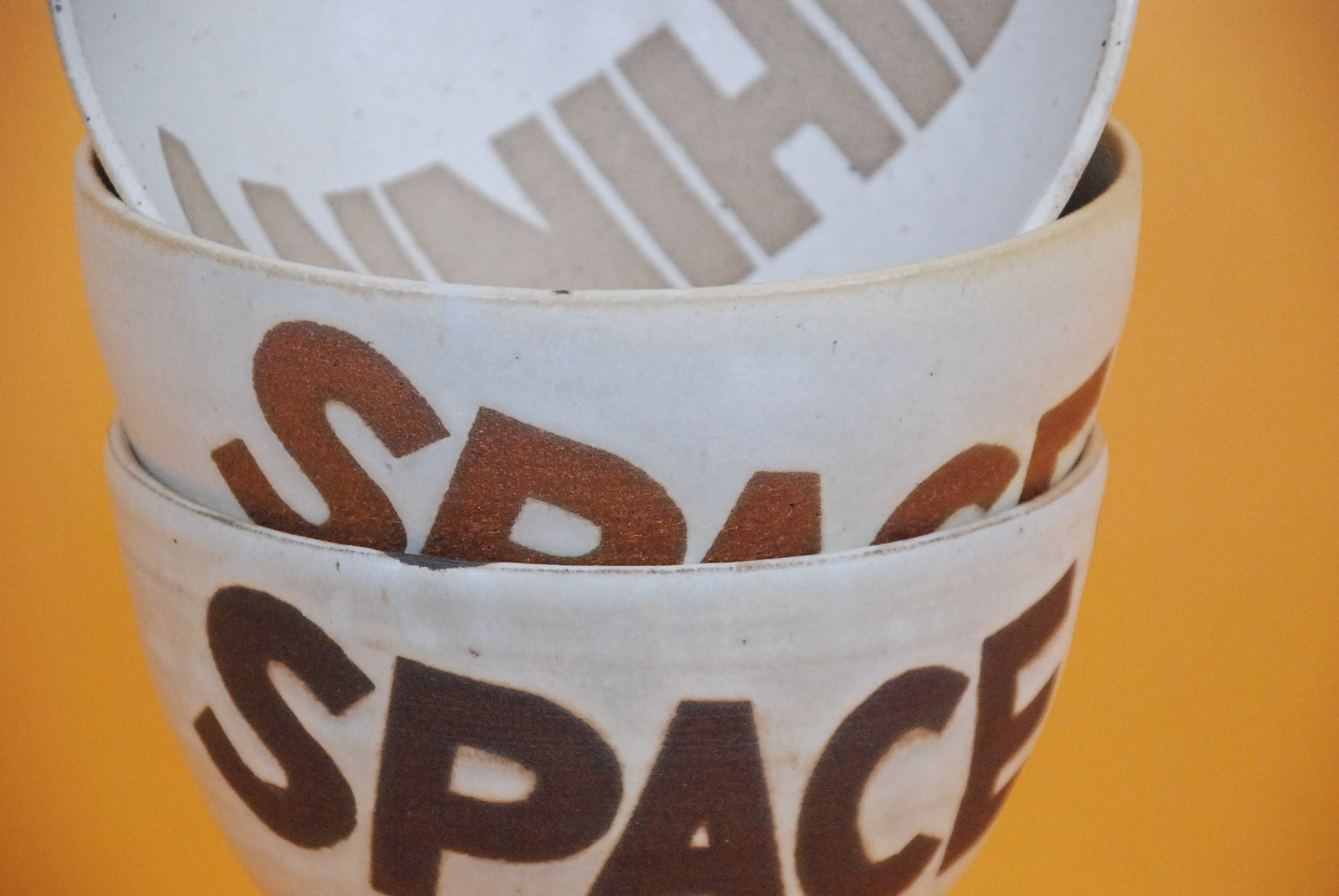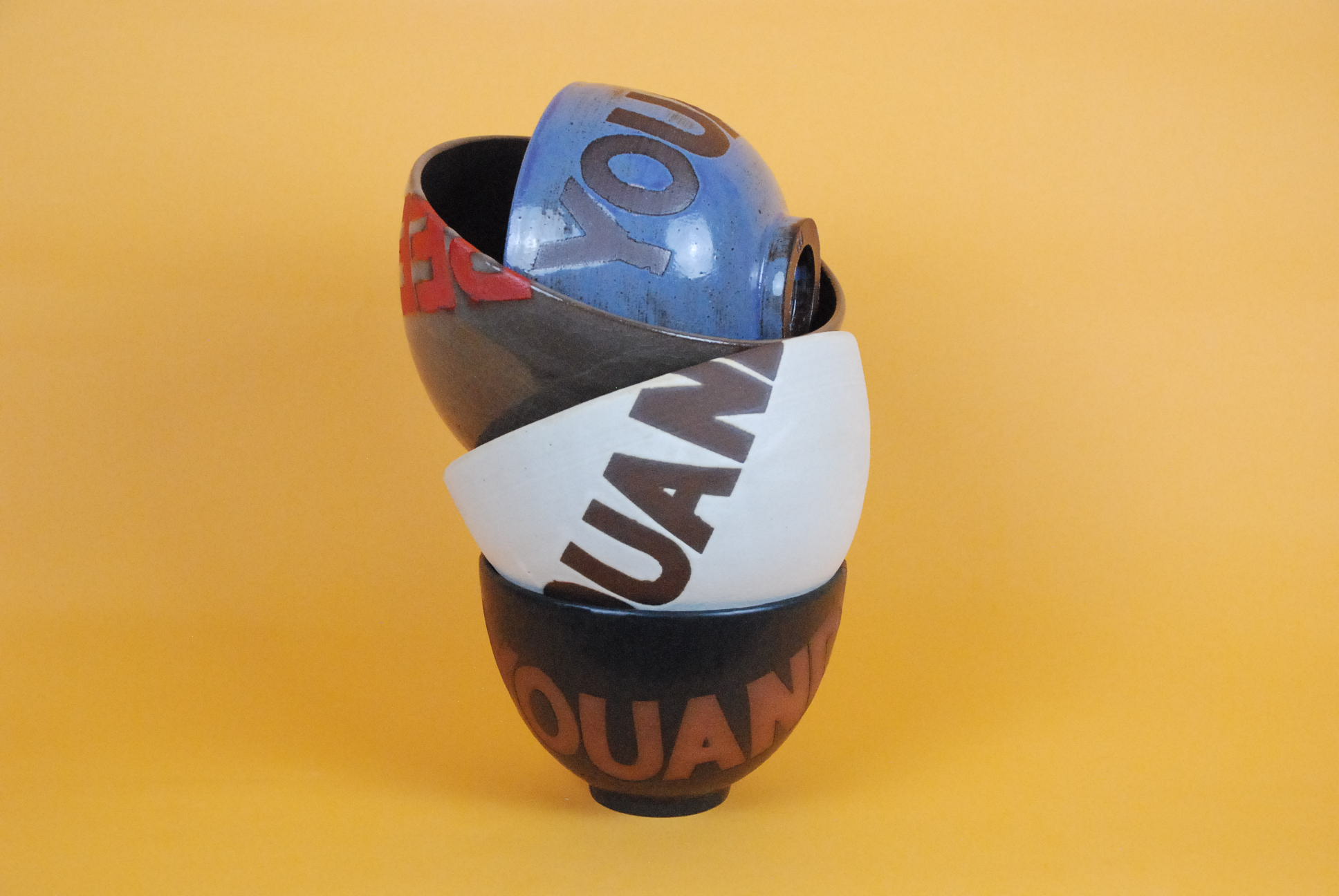 For 2022 the three phrases I chose were, NADIE ES ILEGAL, GIVE TAKE, and MOONAGE DAYDREAM. With each bowl I'm planting a seed that looks to grow into a future revelation about who we are at this time. Someone or something may unearth a broken piece or an intact bowl in an archaeological dig, and learn about humans of the 21st century. I also like the idea of inanimate objects having a voice, kind of beautiful I think.
I chose these words because I feel that we have a lot to learn about how to be kind humans. We have allowed artificial lines to be drawn, we give power to "leaders" who capitalize on these imaginary lines to demonize people fleeing climate catastrophe, and political upheaval. NADIE ES ILEGAL, no one is illegal. 
GIVE TAKE can be applied in so many ways in our lives. I specifically left out the more traditional & in the middle because I wanted to make plain my interest in the act of giving and taking. 
What do you think of when you imagine a MOONAGE DAYDREAM? David Bowie's iconic title on an iconic album is just the beginning. MOONAGE DAYDREAM feels like a limitless possibility in my imagination. Bowls for Sale